Below is a guest post from a family 5 from Tokyo, that stayed for 2 months at a White Fox property just as the Corona pandemic started last year.
As a family, we worked and did online schooling for 2 months from Hakuba in 2020. It was hands down the best decision we made as a family to handle the craziness.

As Tokyo became stricter during March and rumors of a lockdown filled the air, our family started making preparations to handle two working parents, two online schooling elementary kids and one energetic toddler all at home for at least a month. OMG! Our priorities were space–both inside the house and outside too–particularly arranging a location where we could have the kids play outside safely. It was still technically ski season, so while Tokyo felt uncomfortable, we decided to head to Hakuba to catch the tail end of ski and snowboarding season.

We went into the stay in Hakuba first just staying a weekend to get away from the stress of Tokyo, but after White Fox suggested a month stay, we quickly decided it was where we would spend our time while Tokyo was shut down.
So what were our memories?
Working while the snowfalls quietly outside, drinking warm, fresh coffee inside
Lots of early morning and afternoon time on the slopes
Simple, wholesome meals everyday–ingredients for cooking are directly from the farmers
2 skiing wonderkids
Many snowmen appearing around our chalet (courtesy of the kids burning energy)
Trips to Toyama, Fukui, Shiga, Itoigawa, and so many places we would have never been otherwise
Fresh food, water & flowers everyday
For the adults working from Hakuba, it was interesting to see how working from Hakuba increased our creativity and output. First, it is quiet. You sleep deeper at night, hear the birds in the morning and when it snows, things become even quieter. There is lots of space, inside the White Fox Chalets and outside with fresh air, which truly does freshen the lungs and mind. There is a Starbucks at the new Snowpeak building and several other cafes great for working if you want a change of venue.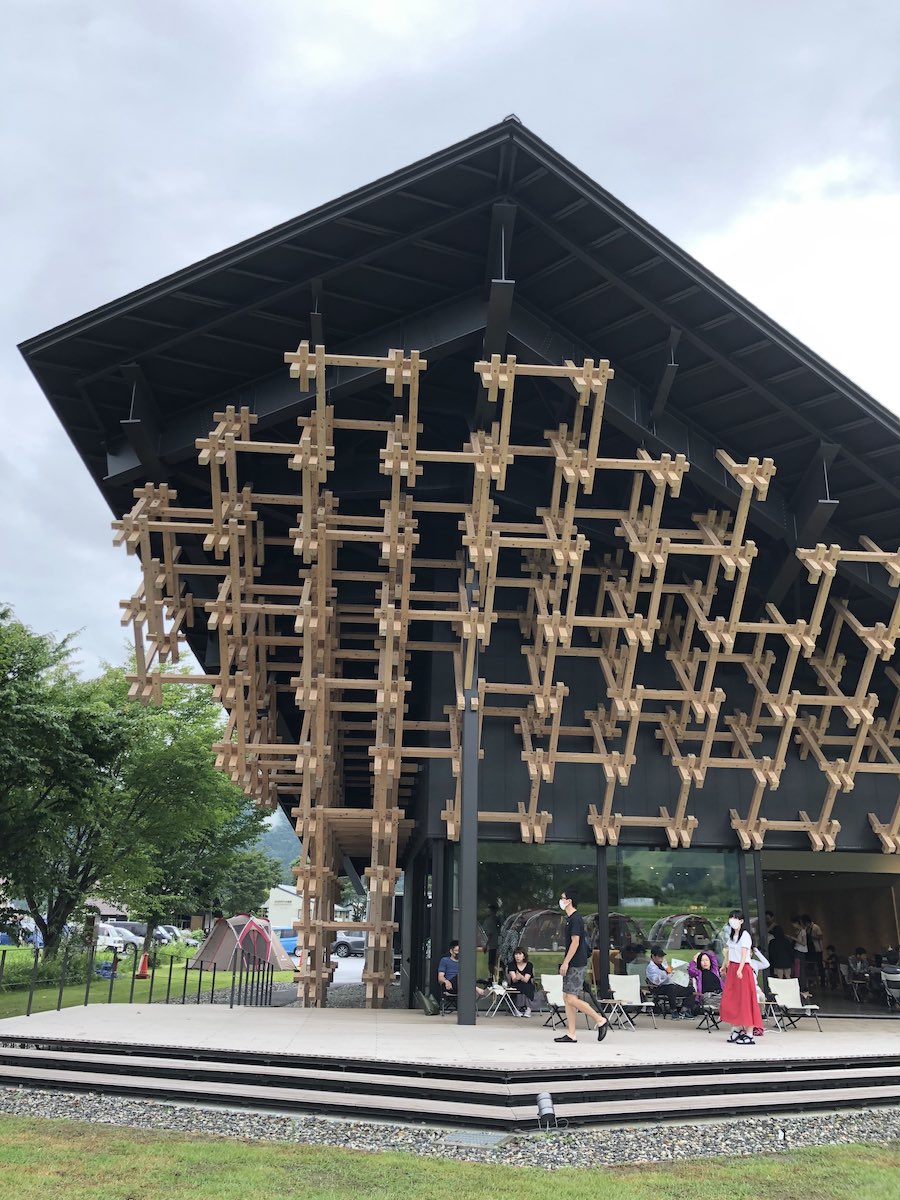 Our daily workouts became morning snowboard runs down Hakuba 47 and Happo or jogging through the village. It was unforgettable being the first ones on the mountain in the morning. The White Fox crew also recommended some professional yoga and gym locations. After those refreshing work-outs, we were able to concentrate on work. We did evening walks after dinner, watching the stars come out as it got darker.
The food in Hakuba was hands down delicious. As a family, we enjoy cooking and when having the best ingredients at 30-50% cheaper than Tokyo, it was a recipe for happy stomachs. Hakuba pork, Shinshu beef, vegetables from the local farmers and seasonal fruits were great. We switched to drinking tap water over tea as the Hakuba mountain water was better than anything bottled at the stores. We brought our bread maker and had fresh breads baking during the daytime.
We developed our favorites for lunch and dinner meals. There is a Jing Hua with xiao long bao & tan tan mien, numerous soba restaurants and several great Mexican restaurants. There are a few restaurants with great fish from the nearby Japan Sea and even a Chinese restaurant with a chef who used to work at the Okura in Tokyo.
Managing online schooling was simple in Hakuba. The Internet was faster than ours in Tokyo, and we had more space for the family to spread out with the dining table, living room tables and desks in the bedrooms. Our kids would do online learning from morning, take a break at lunch and then spend the afternoons outside playing in the snow or skiing. As Spring came, they were able to experience the blossoming flowers around the valley and the thawing of the village. The huge Green Sports Park was a favorite as was the indoor Hakubounce trampoline park. Did you know the town is absolutely filled with daisies in the Spring?!
Our youngest who is still a toddler shifted from the Tokyo daycare to a local Hakuba place. It was run by ex-Tokyo based teachers who truly put their heart into educating the kids. Everyday, my toddler would return with paintings and tell me about how she learned about circles-rectangles-triangles, mixing colors together or how sour lemons are. She learned so much and it was cheaper than the Tokyo daycare. They even potty trained her!
Weekends were full of adventures. Skiing or snowboarding were options anytime. Since we were based in Hakuba, we also used this to explore Toyama, Matsumoto and many of the nearby prefectures. A pleasant surprise was the beauty of Kaga and famous crab of Echizen, Fukui. There was a dinosaur park at Nagano City, a great day trip for the family. We also made trips to see the Snow Monkeys and Kanazawa's fish market.
After 2 months in Hakuba, our bodies were detoxed from the air, water and food in Hakuba. Life had shifted from the craziness of city life to the fullness of mountain life. Our children had become stronger and healthier, requesting to go outside instead of playing video games inside. Also, we were able to reset our Tokyo living space. We had survived for 2 months with less belongings, leading to us decreasing our Tokyo belongings by 30% and creating that much more space at the apartment.
Doing the same thing everyday, living in the same space, leads to the same thoughts. Taking that time to live in the snow country of Hakuba gave us a new perspective and reset priorities. Life after Hakuba very much improved, giving us a path to focus on what is important and decreasing noise. As a family, we are thankful for that suggestion from White Fox to spend the month which led to 2 months in Hakuba in 2020. We are happier because of it!