Welcome to Echoland, Hakuba's Wine & Dine District
What is Echoland and Where is it?
Echoland is one of Hakuba's most vibrant areas. It sits between Hakuba 47 and Happo-One Resorts and has the area's largest concentration of restaurants and bars. Echoland is actually one 500 meter long main street with roads branching off on each side, as highlighted in grey portion of the map above. The two nearest ski resorts are Happo-One Resort, a 3 min drive and Hakuba 47/Goryu & Iwakate Resorts, a 5 min drive. The surrounding area is called Misorano. Echoland and Misorano have seen the most new developments of new properties and restaurants in all of Hakuba the past 5 years.
The Hakuba White Fox Co is focused on developing luxury ski chalet accommodation in Echoland and surrounding areas. Our ski holiday chalets are marked by green stars on the map above. They are located in the heart of Echoland, steps away from many restaurants and bars including wine and whiskey bars, ramen restaurants, and brunch spots. We've highlighted the bars and restaurants we frequent, and also the bus stops above.
2023 marks even more changes for Echoland. Two ski & snowboard rental companies are making Echoland their flagship stores. Central Snowsports is renovating a large space just opposite of Sounds Like Cafe and Lion Adventure is building a completely new building. Each will have a cafe/restaurant space inside to go along with retail and rental.
Did you know?
Ginza, the glitzy area in Tokyo, is the most expensive land in all of Japan. Echoland used to be known as Echoland Ginza with many of the restaurants on the main strip owned by famous Japanese celebrities in the 1980s during Japan's ski boom.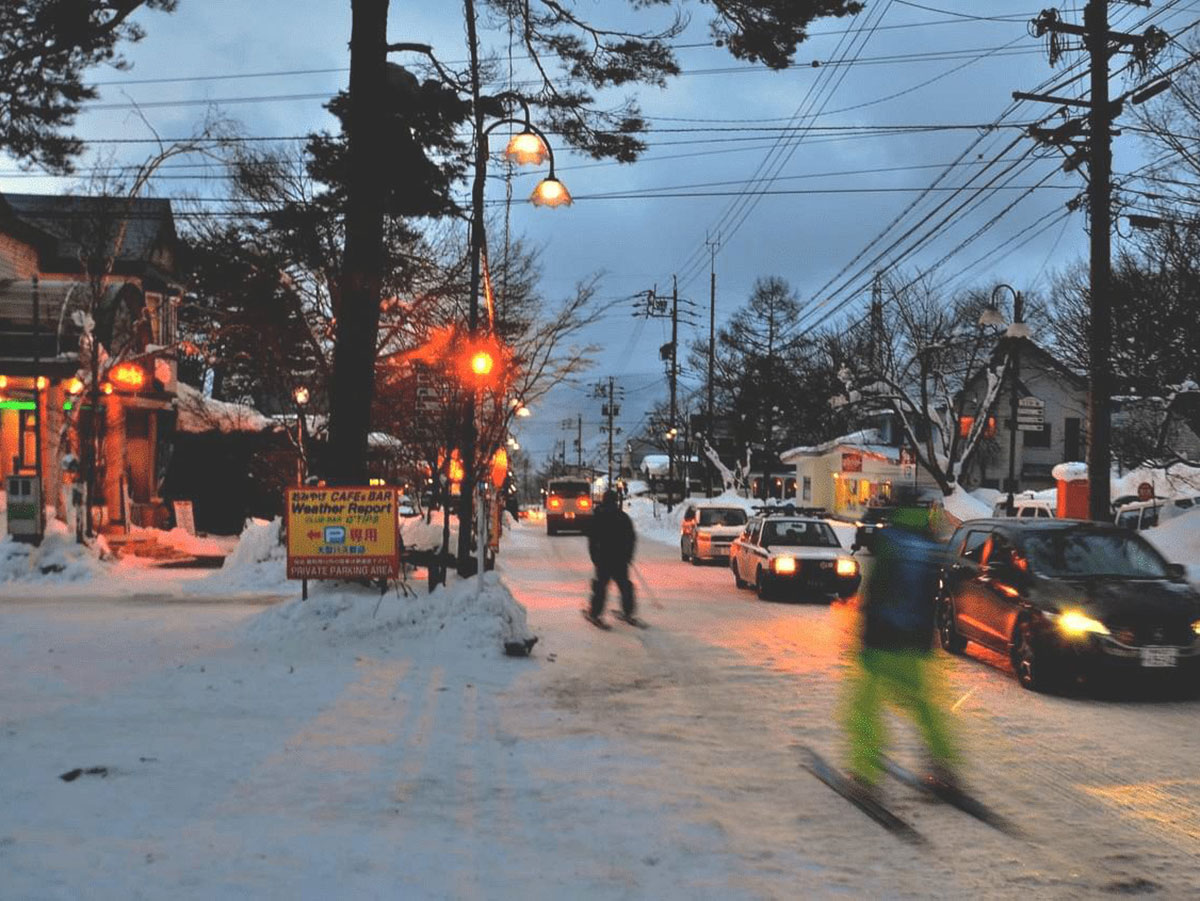 What do you need to know about Hakuba to maximize your trip?
At most ski resorts, ski-in/ski-out is a great choice. However in Hakuba, repeat visitors often choose otherwise. You'll understand when you visit, but let's examine why now.
Hakuba is a valley comprised of 10 resorts. All are on the same Hakuba Valley Ski Pass but most of the resorts are not connected to each other. Only Goryu/Hakuba47 and Norikura/Cortina are connected.
The average stay of overseas guests in Hakuba is 6 nights and stays of 10 nights+ are common. Given the wealth of resorts within a short distance, visitors quickly realize the value in being centrally located in Echoland, as opposed to directly on one mountain.
On any given trip, you are likely to visit multiple ski resorts. After a long day of skiing or snowboarding, the convenience of having restaurants and bars at your door step is invaluable. Each area in Hakuba has a collection of restaurants/bars some bigger than others. Echoland has the most options to choose from – there is something for everyone!
Hakuba has an extensive and free bus system. The nearest stops to our chalets are less than a 1 minute walk away. We always encourage renting a car to maximize your experience and enjoyment. Along with visiting multiple resorts, there are many day trips including visiting the Sea of Japan and eating fresh crab and sushi in Itoigawa, Matsumoto Castle, Snow Monkeys, and amazing historical cities like Kanazawa.
Echoland Key Facts:
Nearest Resorts: Happo-One: 3 min drive, Hakuba 47/Goryu: 5 min drive, Iwatake: 5 min drive
Nearest Supermarket: Acoop 5 min drive, Big/Aeon – 4 min drive
Resort Shuttle Stops – 15+
Convenience Stores – 1
Ski Rental Shops: 3
Restaurants: 16+
Ramen Restaurants: 2
Bars: 9
Car Rental: 1
White Fox Co Chalets: 8
What does Echoland offer? Tell me the 5 Reasons!
Echoland has something for everyone and the area attracts guests staying in many other parts of Hakuba. It is an ideal location given the proximity to restaurants, bars, retail, shuttles, and ski rental. Take a look below at all of Echoland delivers.
Breakfast, Brunch, Ramen, Craft Beer, Whiskey & Wine Bars
For breakfast, the most popular place in Hakuba is Sounds Like Cafe along with Penguin Cafe, Cantina, and Lava Rock – good options just down the road from White Fox Co collection of properties. For a good coffee, Satoru's Coffee, just across from the Marriott is quickly becoming the choice for many coffee lovers. Cantina also offers fantastic coffee and is open at 7am. Sounds Like Cafe recently added a beautiful coffee machine and have upped their bean selection. Some of our favorite restaurants include: Hinabe, which offer high quality hot pot.
For dinner, we continue to get rave reviews from visitors to Miyami Genghis Khan, with the lamb grilled on the open pit in front of you. Hie Izakaya is a popular dinner choice always for Japanese food. We'd always recommend booking dinner options early during winter season. Our company offers a full annually updated list of restaurant recommendations. We also make reservations for our guests.
For drinks, Asunaro Wine Bar and Cantina are good for a glass of wine with Mockingbird a popular locals choice for beers & other cocktails. TapRoom Hakuba does great craft beers + hearty food and kindly offers pick ups and drop off service even while the bar is only a 2 min drive away. For whiskey lovers, Nomad Hakuba is a great place to relax while enjoying a drink from their great selection of Japanese whiskeys.
Nightlife: 10pm Onwards
All of the following establishments offer a mixture of music types, ranging from reggae to electronic. Most get busy after dinner and close at 1am or 2am or later. Holy Smokes, Studio 902, Mockingbird, White Hakuba Lounge Bar, or Samurai Kebab. Holy Smokes has become a crowd favorite with their hidden behind a cigarette vending machine entrance.
Convenience & Flexibility
Echoland offers flexibility and convenience. If you're taking the resort shuttles, there are 30+ morning shuttles to 7 different resorts. If you are driving, you're on the main road in less than 2 minutes. You can explore all Hakuba has to offer and at the end of the day come home and relax. It also offers the chance to both eat-out or stay in and cook. Echoland and the surrounding Misorano area have the biggest selection of self-accommodation combined with the most selection of restaurants and bars. If you include the Misorano area, which surrounds Echoland, you add many more dining favorites like Cherry Pub, NikuMasa, Prairie, Traumerie, Windy Kobeya and bakeries like Mon Pigeon and Koubo Nikki. We also have new fantastic restaurant such as San Fermo Pizza and Sharockan. The latter is a fantastic choice for a special dinner.
If you are staying in and cooking, we recommend Acoop Supermarket for fresh foods. The large supermarket Big/Aeon also nearby. Both are just 5 min drive away. Eating in is one of the major benefit of staying in a chalet – it's the ability to stay in your own home, cook and enjoy some wine and relax in a beautiful setting. For alcohol, outside of Big/Aeon, Kajikura liquor store is a short walk 200m from Base Camp. We also recommend pre-ordering wines from Amazon Japan, or Enoteca. Delivery is usually next day to your door.
Easy Access
Arriving into Echoland is simple. Nagano Snow Shuttle has airport shuttles from both major Tokyo airports to Hakuba Station. From there, we will come pick you up. If you are coming via bullet train, you will likely take the Alpico Bus from Nagano station to the Happo Bus Terminal. The Happo bus terminal is a 3 min drive to Echoland. Stay with us and we'll be waiting there to take you directly to your amazing ski chalet.
Read enough? Send us an enquiry below. Or contact us through Messenger or WhatsApp.
Read on! More reasons below.
Getting to the resorts is as easy as choosing your resort and getting on your shuttle bus. All the major ski resorts have free shuttle buses. There are 2 stops on the Echoland main road. One is at Central Snowsports and the other is at Rotary roundabout at the top of Echoland. From either of these spots, there are upwards of 20 morning buses that depart to Goryu/Hakuba 47/Iimori. If you are heading to Happo or Iwatake Resorts, there are 10+ morning buses that leave from here. There are also several morning buses going to Tsugaike.
Alternatively, elect to rent a car from White Fox Car Rentals to beat the crowds, save time, and go at your own pace. Having a car opens up an enormous amount of freedom.
Wide-Range of Accommodation and Quality of Chalets:
Echoland offers a range of accommodation. It has Japanese family-owned lodges, backpacker/hostels, multiple hotels, and a great selection of high end ski chalets, including all the properties the White Fox Co operates in the area. Echoland and the surrounding Misorano are now the new center of the building boom in Hakuba. Whether you are coming alone, as a couple, as a family, or multiple families, you'll find plenty of accommodation that suits.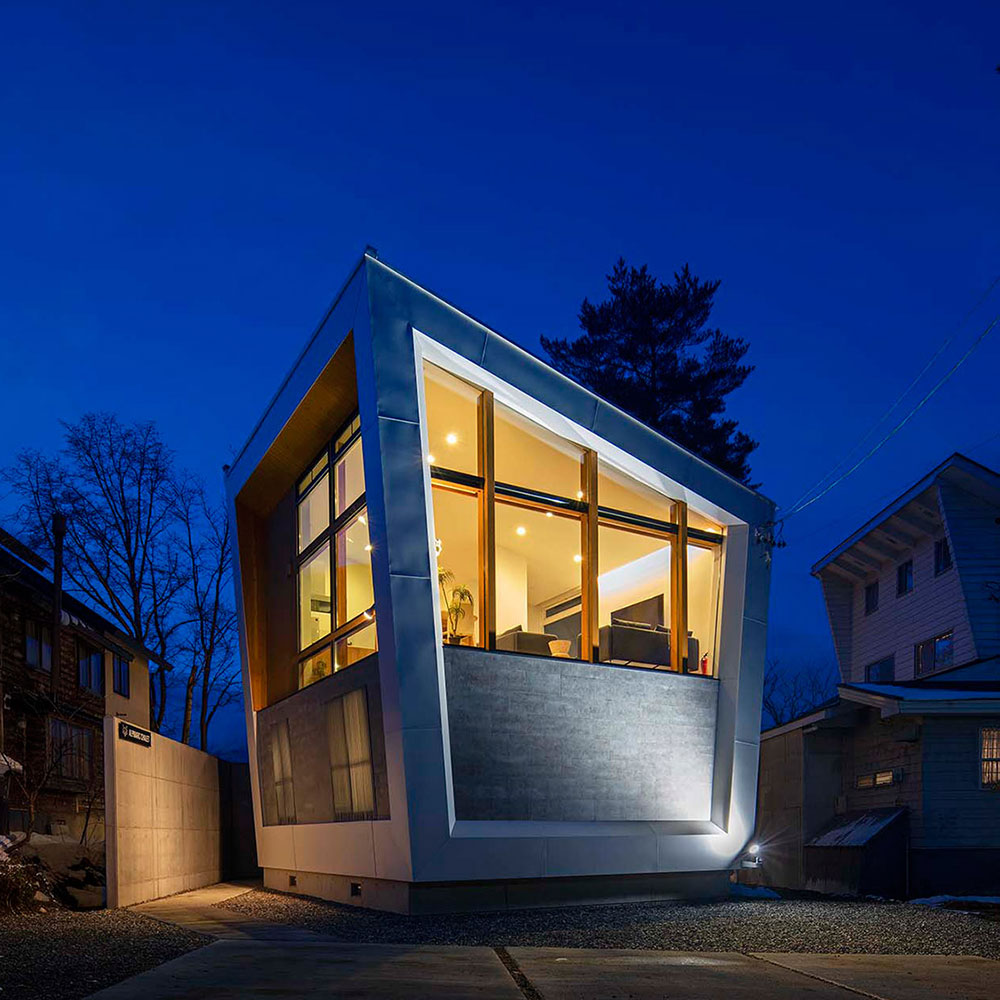 3 Bonus Reasons You Might Have Missed:
Infrastructure: Echoland is a well laid out area with straight, wide, flat roads that are easy to drive or walk on. Street lamps light both sides of the main road. No winding, narrow, dark roads. While the main road is bustling in winter, once you turn left or right off the main road toward your accommodation, you are quickly down a quiet, forested road. It's a great balance to have.
Echoland has a Yoga studio?
Yes! The newly built Komorebi Studio offers daily yoga sessions throughout winter inside the Shakespeare Hotel. Not for you? Head next store to the BB gun shooting range.
Ski Rental – Echoland has ski and snowboard rental on the main strip with Central SnowSports and Lion Adventure both are opening new flagship stores for Dec 2023. Rhythm offers pick up/drop off service and also has excellent coffee in their Glorius Coffee shop inside the store.
What are you waiting for? Click below to contact us or visit our main page if you're interested in staying at some of the nicest ski accommodation in Echoland or want to rent a car for your stay.
Like this local information? Sign up to our Hakuba Newsletter.